Enhancing Relationships Through Virtual Couples Counseling: Unveiling the Benefits of Virtual Therapy

Introduction

benefits of virtual therapy
In an increasingly digital world, technology has revolutionized various aspects of our lives, including the way we seek and receive therapy. One area that has significantly benefited from technological advancements is couples therapy. With the rise of virtual couples therapy, couples now have the opportunity to access professional help and work on their relationship dynamics from the comfort and convenience of their own homes. In this article, we will explore the numerous benefits of virtual couples therapy and shed light on how this innovative approach can strengthen relationships and promote overall well-being.
Accessibility and Convenience

One of the primary advantages of virtual couples therapy is its accessibility and convenience. Traditional face-to-face therapy often requires couples to commute to a therapist's office, which can be time-consuming and inconvenient. Often this means both finding and paying for parking, which can sometimes mean running late and missing valuable minutes with your therapist. One of the benefits of virtual therapy is not having to drive through inclement weather; or, miss a session due to the weather. Virtual therapy eliminates these barriers, allowing couples to engage in therapy sessions from any location with a stable internet connection. This accessibility increases the likelihood of couples seeking therapy, as it removes geographical constraints and offers flexibility in scheduling sessions to accommodate busy lifestyles. It can be helpful for a couples counselor to see a couple in their home as it can add information that helps the therapist understand who the couple is and how that is reflected in their home environment.
Increased Comfort and Reduced Stigma

For some individuals, the idea of attending in-person therapy sessions can be intimidating or evoke feelings of shame or embarrassment. Virtual couples therapy provides a level of anonymity and comfort that may encourage more open and honest communication between partners. Couples can participate in therapy sessions from the privacy of their own homes, enabling them to express their thoughts and emotions more freely without the fear of being judged. This relaxed environment can contribute to more productive and effective therapy outcomes. Meeting a couple in their home is, for many couples and therapists, more intimate than meeting in the artifice of a therapy office. This increased feeling of intimacy and safety can make it more comfortable to open up about challenging issues such as money, sex, or infidelity. A home environment is more comfortable for individuals challenged by anxieties and social phobia. Couples have the ease and comfort of using their own bathrooms, access to their own tea and coffee, being able to quickly accept a package at their own front door. Virtual therapy offers the advantage of not having to wait in a crowded waiting room with the possibility of exposure to seasonal colds, the flu, or Covid.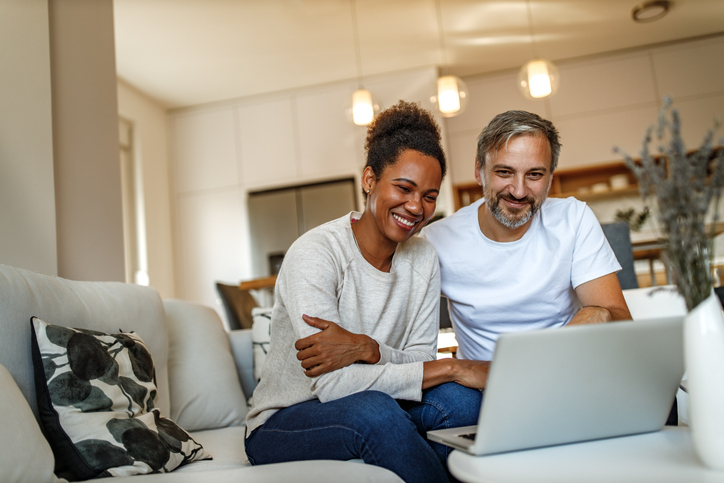 Enhanced Focus and Engagement

Virtual couples therapy has the potential to enhance focus and engagement during sessions. In a face-to-face setting, couples may experience distractions or discomfort in unfamiliar environments, which can impede their ability to fully engage in the therapeutic process. By conducting therapy sessions online, couples can create a personalized and familiar space, which promotes a sense of ease and engagement. This increased focus allows couples to delve deeper into their relationship issues and work towards resolving them effectively and is another of the benefits of virtual therapy.
Improved Accessibility to Specialists is one of the Valuable Benefits of Virtual Therapy

Virtual couples therapy allows couples to connect with therapists who may specialize in certain areas, even if they are geographically distant. This broadens the pool of therapists available to couples, ensuring they can find a professional with expertise and experience relevant to their unique needs. Whether the focus is on communication, intimacy, or conflict resolution, virtual therapy opens doors to a wider range of specialized practitioners who can offer targeted guidance and support.
Flexibility and Consistency

Another advantage of virtual couples therapy is its flexibility in terms of scheduling and consistency. Many couples lead busy lives with demanding work schedules and family responsibilities. Virtual therapy allows couples to find time for sessions without the need to navigate potential conflicts with work or childcare arrangements. Another benefit of online couples counseling is that, when necessary, each member of the couple can be in a completely different location. For example, one person can jump onto the session from a work or travel environment while the other member of the couple is at home.
Conclusion

Virtual couples therapy offers a range of benefits that contribute to the overall well-being of couples and their relationships. From increased accessibility and convenience to improved engagement and focus, the advantages of virtual therapy are clear. By leveraging technology, couples can access professional support regardless of their location, break down barriers of stigma and discomfort, and work towards a healthier and more fulfilling partnership. As the digital landscape continues to evolve, virtual couples therapy is poised to play an increasingly important role in helping couples navigate the challenges of modern relationships.
Footnotes
Mendenhall, T. J., & Doherty, W. J. (2019). The Future of Couple and Family Therapy: The Digital Age. Journal of Marital and Family Therapy, 45(3), 371–389
O'Sullivan, L. F., & Irwin, J. (2017). Behind the Screens: Nurses' and Young Adults' Perspectives on the Functions of e-Therapy for Youth Mental Health. Journal of Psychiatric and Mental Health Nursing, 24(6), 403–410.
Schrager, S. B., & Simons, A. D. (2016). Emotionally Focused Couples Therapy for Diverse Couple Relationships. Journal of Marital and Family Therapy, 42(1), 165–180.