Christian Second Marriage

Christian Second Marriage
For many, a Christian second marriage is a topic that is tough to come to terms with. According to David Jones, in The Betrothal View of Divorce and Remarriage, "scholars have not been able to construct a standard moral framework for this issue—that is, there is no unanimity of thought on what the Scriptures teach on divorce and remarriage."(1)
Steven M Cohn, PhD, LMFT
The Portland Couples Counseling Center
1940 NE Broadway
Portland, Oregon  97232
503-282-8496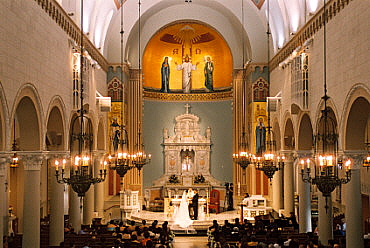 The source of the confusion surrounding Christian second marriage appears to arise from the so-called "exception" clause found in Matthew 5:32. This passage reads: "But I tell you that anyone who divorces his wife, except for marital unfaithfulness, causes her to become an adulteress, and anyone who marries the divorced woman commits adultery." Most scholars interpret this passage to mean that the only acceptable reason for divorce is unfaithfulness.
However, given that 27% of born-again Christians are divorced(2), it appears that there may be a need to re-examine the idea of getting married again. In his book, "Divorce and Remarriage in the Bible," David Instone-Brewer(3) notes that the Old Testament allowed divorce not only for adultery, but also for neglect or abuse. Further, both Jesus and Paul refrained from condemning remarriage after a "valid" divorce, defined as one resulting from adultery, neglect, or abuse. In an article in Christianity Today, Christin Ditchfield(4) notes that when interpreting Biblical teaching on Christian second marriages, "some seem to ignore the grace of God—and the wisdom and guidance of all the other Scriptures in the Bible—for an extreme form of legalism.
Others seem to go to great lengths to find ways to dismiss what the Bible teaches, explaining it away as though it's no longer relevant. Both approaches are dangerous." Ditchfield continues on to say that a lot of the "rightness" or "wrongness" of Christian second marriage depends on "the circumstances and the attitudes of those involved."
When considering a second marriage, it is important for Christians to take the time to seek out the assistance of a spiritual mentor or qualified Relationship Specialist if there are worries about the morality of remarrying. Take the time to consider the alternatives: living together without benefit of marriage, denying your happiness together by splitting up, or returning to the first spouse who may have been abusive or neglectful. Which of the outcomes will bring a person closer to God? In many cases, it may be that the best course of action is indeed remarriage.
Clearly, going through a divorce is an agonizing time for a Christian. Once the decision has been made that the marriage is no longer viable, the Christian must search his or her heart and ask forgiveness for the part he or she played in causing the marriage not to work. Because we can be assured that we do receive forgiveness for our sins, we can then look for ways in which to better serve God. In some cases, this may indeed mean a Christian second marriage.


Endnotes

(1)Jones, David W. The Betrothal View of Divorce and Remarriage. BIBLIOTHECA SACRA 165: 68-85. January – March, 2008.
(2)Wenham, Gordon J., William A. Heth, Craig S. Keener, and Mark L. Strauss. Remarriage After Divorce in Today's Church: 3 Views. Grand Rapids, Mich: Zondervan, 2006.
(3)Instone-Brewer, David. Divorce and Remarriage in the Bible: The Social and Literary Context. Grand Rapids, Mich: W.B. Eerdmans, 2002.
(4)Ditchfield, Christin. Is My Remarriage a Sin? http://www.christianitytoday.com/tc/2007/mayjun/4.18.html. Retrieved 7/26/2009.