Second Marriage Problem

You might be concerned that you will have a second marriage problem if you remarry. Marriage is a serious proposition the first time around, and the concerns don't end when you tie the knot for a second time. In fact, 18th century English writer Dr. Samuel Johnson once said that remarrying was the "triumph of hope over experience."
Steven M Cohn, PhD, LMFT
The Portland Couples Counseling Center
1940 NE Broadway
Portland, Oregon  97232
503-282-8496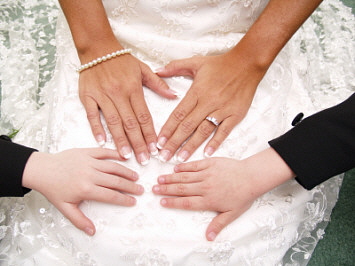 One recent study in Canada showed that about 43% of divorced people and 16% of widowed people remarried. Of these, about half married people who had also been married before, and about one-third lived together before their marriage. With so many people remarrying there is bound to be a second marriage problem for some of them. Nevertheless, the study also showed that 55% of these second marriages were still intact after 13 years.(1)
One of the factors that predict remarriage success has been identified as remarrying after the age of 40. It is thought that the maturity that comes from life experience by age 40 is responsible for keeping remarried couples together.
How often might a second marriage problem lead to another divorce? As many as 1 in 5 second marriages end in dissolution for a variety of reasons. Some say it is because divorce is a learned behavior (i.e., if divorce solved the problems of the first marriage, it will also be likely to solve the problems of the second). Others say there is a smaller pool from which to choose a second spouse, meaning that there is less likelihood of finding a partner who is compatible.
Many people, particularly before a first marriage, try living together to see if they are compatible before committing to a marriage. Research suggests that this is an especially bad idea before a second marriage. Living with anyone after a divorce is likely to delay when you will get remarried, and this effect is magnified if the person lives with multiple partners. In addition, cohabitation has been associated with lower levels of re-marital happiness and higher levels of re-marital instability.(2)
For widows, there are some special circumstances that lead to a second marriage problem. As you might expect, those who are younger in age at the time of being widowed and those who are the most unhappy are the most likely to be interested in remarriage. Research shows that remarriage was found to be associated with higher income and less worry over finances, a key consideration when considering second marriage.(3) For men, social support seems to be a big predictor of whether they are interested in a second marriage. Problems may seem to be less intense when friends are present to share the load.(4)
No matter the reason for the end of a first marriage, one of the common reasons for second marriage problems is the anxiety that is left over from unresolved issues in the first marriage. A Relationship Specialist may be able to assist you in working through these left-over problems to give you the greatest chance at success.(5)



End Notes


(1)Clark, W. and Crompton, S. Til Death Do Us Part? The Risk of First and Second Marriage Dissolution. Canadian Social Trends, Summer 2006.
(2)Xu, Xiaohe, Hudspeth, Clark D., and Bartkowski, John P. The Role of Cohabitation in Remarriage. Journal of Marriage and Family 68(2): 261-274.
(3)Moorman, Sara M.; Booth, Alan,; and Fingerman, Karen L. Women's Romantic Relationships after Widowhood. Journal of Family Issues 27(9): 1281-1304. 2006.
(4)Carr, Deborah. The Desire to Date and Remarry Among Older Widows and Widowers. Journal of Marriage and Family 66(4): 1051-1068.
(5)Faber, Anthony J. Examining Remarried Couples Through a Bowenian Family Systems Lens. Journal of Divorce & Remarriage 40(3&4): 121 – 133, March, 2004.