Marriage Advice
And
Relationship Counseling

I'd Like to make an Appointment with Steven Cohn, PhD



Marriage Advice and Relationship Counseling Tip:
"Since time and money are precious, you should be prepared to make 'working on your relationship' your top priority."
--Steven M. Cohn, PhD

You Deserve A Thorough and Comprehensive Analysis of your Relationship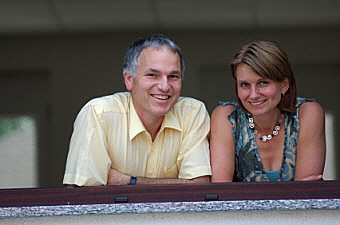 At the beginning of your first session, I will tell you all about my approach and answer all of your questions. I will also talk with you about what you expect (and deserve) from the time that you invest in marriage or relationship counseling.
I want you to feel safe and comfortable in my office. During every session you will be offered a warm cup of tea (I have a wonderful selection of teas) or a cool glass of water.
My approach to marriage and relationship counseling is thorough, comprehensive, and rigorous. Time and money are precious, so my marriage advice is that you be prepared to make "working on your relationship" your top priority.
Most therapists attempt to complete a relationship counseling session within 50 minutes (the therapy "hour").
I don't work like most therapists.
It doesn't matter whether you live in Medford, Oregon, Ashland, Oregon, Bend, Oregon or anywhere else, the research indicates that 50 minute sessions are not effective when working with couples. Relapse rates go up, and couples don't get their needs met.
All of my sessions are 90 minutes long so that you will derive the greatest benefit from your time spent in therapy.
Many "couples therapists" attempt to both diagnosis a couple and offer both marriage advice and relationship counseling homework by the end of the first session. Although this might initially feel like progress to the couple, in my opinion its the same kind of progress that comes from putting the cart before the horse.
Rather than one 50 minute analysis, my intake takes four sessions to complete for a total of a 6 hours.
During your first two 90 minute sessions, I will meet with you as a couple. I will begin examining your relationship beginning with the first day that you met. Every stone will be uncovered in the search for issues inside of your marriage or relationship.
During your third and fourth 90 minute sessions, I will meet with each of you alone. During your individual session, you will have the chance to speak freely, without concern for how your mate will feel or react.
This is also the time when I will learn more about the family that you grew up in (your family of origin).
Family of origin is very important in assessing many relationship challenges: differing expectations, power and control conflicts, opposing conflict styles, disagreements about family traditions, role confusion, and incompatible parenting styles, to name but a very few.
If you have further questions you might want to read about marriage counselors or the benefits of marriage counseling.


Relationship Counseling and Marriage Advice About the Myths of Sexless Relationships