Advice On Oral Sex

Advice on oral sex is sought by those both young and old. Just to be clear, the first thing we need to do is to define the different types of oral sex. Fellatio is oral sex performed on a man, while cunnilingus refers to oral sex performed on a woman. It doesn't matter which gender is giving the oral sex, the name of the act depends on who is receiving it. The last type of oral sex is called analingus, which is using your mouth or tongue to stimulate a person's anus.
Steven M Cohn, PhD, LMFT
The Portland Couples Counseling Center
1940 NE Broadway
Portland, Oregon  97232
503-282-8496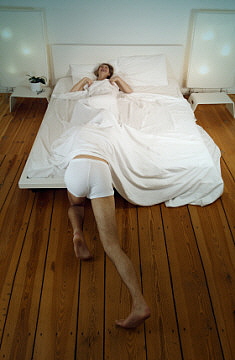 The best advice on oral sex I can give you is that you must stay safe. Recent studies have pointed to the resurgence in both syphilis and human immunodeficiency virus (HIV), the virus that causes AIDS. This outbreak appears to be directly related to the prevalence of unprotected oral sex. Although many people understand that sexual intercourse can lead to sexually transmitted diseases, very few people understand that these viruses can be passed just as easily during oral sex.(1)
While the above study focused on men, women are equally in need of advice on oral sex. As women participate in unprotected oral sex, they are experiencing higher rates of herpes simplex virus, also known as genital herpes.(2)
One of the most troubling statistics cited in recent articles is that adolescents do not consider oral sex to actually be sex.(3) A recent study of teenagers showed that more of them were experiencing oral sex than coital intercourse, and that they believe oral sex is less risky. In addition, adolescents seem to believe that oral sex is more acceptable than vaginal sex in both dating and non-dating situations. Teenagers also indicated that oral sex is less of a threat to their values and beliefs than vaginal sex.(4)
Some researchers point to the abstinence pledges which are so popular among conservative politicians and some educators, as being part of the problem. A study done over several years with students in grades seven through twelve indicated that there was no difference in sexually transmitted disease infection rate among abstinence pledgers and non-pledgers. Those who took an abstinence pledge were more likely to engage in riskier behavior such as unprotected oral sex than those who refused to take a pledge.(5)
The last advice on oral sex I would give you is to prepare for oral sex by making sure drugs or alcohol do not impair your thinking. Not only is short-term impairment related to riskier sexual behavior in individual instances, long-term drug use has been linked with multiple sexual partners and unprotected sex, thus increasing the incidence of sexually transmitted diseases.(6)
If you are in a position where you need to give advice on oral sex, such as a parent to a teenager, it is important that you stress these two important factors: drug use leads to riskier sexual activity, and oral sex is every bit as risky as what your teenager may consider to be "regular" sex.
End Notes
(1)Ashton, M.; Sopwith, W.; Clark, P.; McKelvey, D.; Lighton, L.; Mandal, D. An Outbreak No Longer: Factors Contributing to the Return of Syphilis in Greater Manchester. Sex Transm Infect 79:291-293, 2003. (2)Cherpes, Thomas L.; Meyne, Leslie A.; Hillier, Sharon L. Cunnilingus and Vaginal Intercourse Are Risk Factors for Herpes Simplex Virus Type 1 Acquisition in Women. Sexually Transmitted Diseases. 32(2):84-89, February 2005.
(3)Remez, L. Oral Sex Among Adolescents: Is It Sex or Is It Abstinence? Family Planning Perspectives 32(6): 298-304, Nov-Dec 2000.
(4)Halpern-Felsher, Bonnie L.; Cornell, Jodi L.; Kropp, Rhonda Y.; Tschann, Jeanne M. Oral Versus Vaginal Sex Among Adolescents: Perceptions, Attitudes, and Behavior. Pediatrics 115(4): 845-851.
(5)Brückner H.; Bearman, P. After the Promise: The STD Consequences of Adolescent Virginity Pledges. Journal of Adolescent Health 36: 271-278, 2005.
(6)Semple, Shirley J.; Patterson, Thomas L.; Grant, Igor. The Context of Sexual Risk Behavior Among Heterosexual Methamphetamine Users. Addictive Behaviors 29(4): 807-810, June 2004.