Marriage and Sex Advice

The topic of marriage and sex advice is quite broad, so we will cover just a few of the related topics in this article. Further reliable information can be gained by meeting with a Relationship Specialist.
One of the issues confronted by married couples is the risk of sexually transmitted disease. Ideally, you might assume that your partner is completely faithful and was faithful during your courtship.
Steven M Cohn, PhD, LMFT
The Portland Couples Counseling Center
1940 NE Broadway
Portland, Oregon  97232
503-282-8496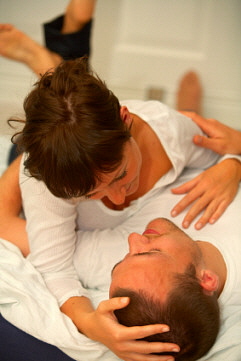 In reality, however, it is not unusual for a spouse to stray, either during the course of the marriage or at a pre-wedding party as a "last fling." If you have any suspicions at all, it is imperative that you get tested and take safer sex precautions. It is important that you be proactive, as many physicians will make the assumption that your relationship is celibate because you are married. This can be particularly important if you are older, as studies show that physicians are less likely to discuss sexual health issues with women as they age.(1)
Another concern related to marriage and sex advice is the effect of sexual activity during pregnancy. It is not uncommon for sexual frequency to decrease as a pregnancy moves along due to the woman's increasing size, hormonal fluctuations, and psychological changes. The couple may also need to confront cultural beliefs, myths, and taboos regarding appropriate sexual behavior during pregnancy.(2) There have also been questions about whether or not sexual activity brings on labor. In fact, studies have shown that intercourse during late pregnancy actually reduces the risk of pre-term delivery.(3)
Following the delivery of a baby, many couples seek advice on when to begin having sex again. Although this is, in part, controlled by the type of delivery and health of the woman following delivery, it is at root a personal choice. According to some studies, the average time between delivery and resumption of sexual activity is 5 weeks.(4)
You may have questions regarding marriage and sex advice if either you or your partner is ill.
It is not uncommon for couples to be fearful of having sex during or after a major health scare such as a heart attack. However, sex can actually promote health. Don't be embarrassed or afraid to discuss sex with the doctor treating you or your spouse if you have questions about when sex will be safe.
Lastly, you may be looking for information related to marriage and sex advice if you are experiencing sexual violence within your marriage. Although there are some who don't believe it, it is entirely possible for rape and sexual assault to occur within the confines of a marriage. Marital rape is more likely to be reported by women under 30 or over 50 years old. Unemployment and low income level are also risk factors.(5)
Although we have barely skimmed the surface of several topics which could be considered under the category of marriage and sex advice, we hope this article has served to start you thinking about the types of things you may want to discuss with a Relationship Specialist.
End Notes
(1)Lindau, Stacy Tessler; Leitsch, Sara A.; Lundberg, Kristina L.; Jerome Jessica. Older Women's Attitudes, Behavior, and Communication about Sex and HIV: A Community-Based Study. Journal of Women's Health 15(6): 747-753, July 1, 2006.
(2)Brown, Haywood L, and McDaniel Michael L. A review of the implications and impact of pregnancy on sexual function. Current Sexual Health Reports 5(1): 51-55. March, 2008.
(3)Sayle, Amy E.; Savitz, David A.; Thorp, John M.; Hertz-Picciotto, Irva and Wilcox, Allen J. Sexual Activity during Late Pregnancy and Risk of Preterm Delivery. Obstetrics & Gynecology 97:283-289, 2001.
(4)Grudzinskas, J.G. and Atkinson, L. Sexual Function during the Puerperium. Archives of Sexual Behavior 13(1): 85-91, 2001.
(5)Black, Daniell A.; Heyman, Richard E.; Smith Slep, Amy M. Risk Factors for Male-to-Female Partner Sexual Abuse. Aggression and Violent Behavior 6(2-3): 269-280, March-June, 2001.