Marriage Sexual Problem

Are you experiencing a marriage sexual problem? If so, you need to realize first of all that you are far from alone.
Researchers at the National Research Council, based in Milan, Italy, recently conducted a Global Study of Sexual Attitudes and Behaviors, focusing on sexual behavior and sexual dysfunctions after the age of 40.
Steven M Cohn, PhD, LMFT
The Portland Couples Counseling Center
1940 NE Broadway
Portland, Oregon  97232
503-282-8496
Their results show that as many as 28% of men and 39% of women experience some sexual dysfunction after the age of 40. For men, the most common issues were early ejaculation and erectile difficulties, while women reported a lack of sexual interest, inability to reach orgasm, and lubrication difficulties.(1)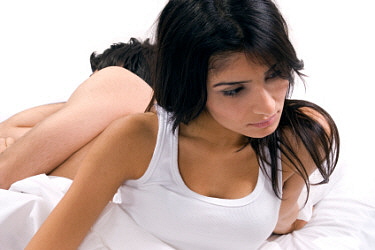 One of the important causative factors for a marriage sexual problem may be when one or both of the partners has low self-esteem or feels that his or her body looks less than desirable. This can result after an injury or illness, particularly something like cancer that requires treatment that affects the body in its entirety. One study looked at young women who had experienced breast cancer, and what the treatment for that cancer did to their body image. Mastectomy, reconstructive surgery, and chemotherapy all contributed to problems with the way these women viewed their own bodies, and as many as half of the women in the study reported problems with sexual functioning as a result.(2)
Somewhat related to the issue of body image is the effect of obesity and metabolic syndrome to marriage sexual problems. Metabolic syndrome is a cluster of diseases that occur together in people who carry too much abdominal fat. Diseases associated with metabolic syndrome include high blood pressure, sleep apnea, diabetes, and a higher risk of stroke and heart attack. The cardiovascular risk factors, in particular, appear to be related to an increased incidence of erectile dysfunction. Further research is needed to determine if there is a solely physical reason related to the vascular system, or if the erectile dysfunction is related to body image, or if both factors come into play.(3)
As prevalent as marriage sexual problems are, this remains a topic that people are unable to easily discuss with their doctors. Although half of the survey respondents in one study, both men and women, reported experiencing at least occasional sexual difficulties, fewer than 19% were willing to seek out medical help. And physicians aren't making it any easier. Only 9% of the survey participants reported that their doctors brought up the topic as part of their routine health care visits.(4)
What's troublesome about the lack of medical care sought for marriage sexual problems is that research has shown that "there is need for collaboration between healthcare practitioners from different disciplines in evaluation, treatment, and education issues surrounding sexual dysfunction."(5) Thus, people experiencing marriage sexual problems must discuss it not only with their family doctors, but with other healthcare professionals, such as relationship therapists, as well.



End Notes

(1)Nicolosi, A.; laumann, E.O.; Glasser, D.B.; Moreira, E. D. Jr.; Paik, A.; and Gingell, C. Sexual Behavior and Sexual Dysfunctions After Age 40: The Global Study of Sexual Attitudes and Behaviors. Urology 64(5): 991-7. Nov, 2004.
(2)Fobair, P.; Stewart, S.L.; Chang, S.; D'Onofrio, C.; Banks, P.J.; and Bloom, J.R. Body Image and Sexual Problems in Young Women with Breast Cancer. Psychooncology 15(7): 579-94. July, 2006.
(3)Esposito, K. and Giugliano, D. Obesity, The Metabolic Syndrome, and Sexual Dysfunction. International Journal of Impotence Research 17(5): 391-8. Sept/Oct, 2005.
(4)Moreira, E.D. Jr.; Brock, G.; Glasser, D.B.; Nicolosi, A.; Laumann, E.O.; Paik, A.; Want, T.; and Gingell, C. Help-Seeking Behaviour For Sexual Problems. International Journal of Clinical Practice 59(1):6-16. Jan, 2005.
(5)Althof, S.E.; Leiblum S.R.; Chevret-Measson, M.; Hartmann, U.; Levine, S.B.; McCabe, M.; Plaut, M.; Rodrigues, O.; and Wylie, K. Pyychological and Interpersonal Dimensions of Sexual Function and Dysfunction. Journal of Sexual Medicine 2(6): 793-800. Nov, 2005.