Sexual Problem and Marriage
Sexual Problem and Marriage

The topic of sexual problem and marriage can encompass many different issues. Among younger couples, marital sexual problems may be the result of the everyday stress of balancing home life and two careers, having children, or caring for elderly parents and/or in-laws. In older couples, there may be sexual dysfunction resulting from age-related bodily changes or from chronic pain.
Steven M Cohn, PhD, LMFT
The Portland Couples Counseling Center
1940 NE Broadway
Portland, Oregon  97232
503-282-8496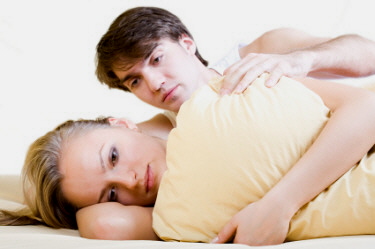 One study found that there is an incremental effect of stress on sexual problem and marriage. Even more specifically, sexual dysfunction appeared to be more related to stress factors internal to the relationship (such as conflict) than to external factors such as jobs and extended families.(1) These findings indicate that the resolution of any sexual problem and marriage requires that the underlying relationship issues be addressed, as well as the symptom or complaint which brought the couple to the doctor. A Relationship Specialist may be a helpful adjunct to a medical doctor in this regard.
Although studies suggest that most primary care physicians are capable of dealing with most sexual problem and marriage such as by giving prescription medications to relieve the physical symptoms of menopause, referral to a Relationship Specialist for counseling may often be the best course of action.(2) In addition to the sexual problems caused by aging, research has also shown a link between marital satisfaction and chronic pain.(3)
An interesting concept brought out in the literature is that mode of marriage can determine whether or not there is a sexual problem. And marriages can happen under a number of scenarios, partly dependent on religious preferences. For example, in traditional Islamic cultures, marriages are often arranged. Of the Islamic couples seen in a particular clinic, over 25% of the women and just 3% of the men had been married without their consent, and as many as 80% of these couples were experiencing sexual problems, the most common being vaginismus (burning or pain during intercourse caused by vaginal tightness) in the women and premature ejaculation in the men.(4)
Many studies have been done on premature ejaculation, the primary sexual problem experienced by men. A little over 18% of men who come to clinics with sexual problems are diagnosed with premature ejaculation, and couples who come in with relationship dissatisfaction have about the same incidence.(5)
One of the age-old issues of
sexual problem and marriage is the frequency with which each partner wants to have sex. From about age 30–45, female sex drive tends to match male sex drive at the beginning of the relationship, then female sex drive tends to diminish. By age 60, as the fertility of the female decreases, male sex drive exceeds that of the female.(6) If this causes problems in a relationship, therapy may be indicated.



End Notes
(1)Bodenmann, Guy; Ledermann, Thomas; Blattner, Denise; and Galluzzo, Claudia. Associations among Everyday Stress, Critical Life Events, and Sexual Problems. Journal of Nervous & Mental Disease 194(7): 494-501, July, 2006.
(2)Sarrel, PM. Sexual Dysfunction: Treat or Refer. Obstet Gynecol 106(4): 834-9. October, 2005
(3)Cano, Annmarie ; Johansen, Ayna B.; Leonard, Michelle T. ; and Degroot Hanawalt, Jennifer. What are the Marital Problems of Patients with Chronic Pain. Current Pain and Headache Reports 9(2):96-100. March, 2005.
(4)Yasan, A. and Gürgen, F. Marital Satisfaction, Sexual Problems, and the Possible Difficulties on Sex Therapy in Traditional Islamic Culture. J Sex Marital Therapy 35(1): 68 – 75, 2009.
(5)Riley, A. and Riley, E. Premature Ejaculation: Presentation and Associations. An Audit of Patients Attending a Sexual Problems Clinic. International Journal of Clinical Practice 59(12): 1482-1487, November, 2005.
(6)Klusmann, Dietrich. Sperm competition and female procurement of male resources as explanations for a sex-specific time course in the sexual motivation of couples. Human Nature 17(3): 283-300. September, 2006.