Women Sex Advice

For women sex advice is often harder to come by than it is for men. The reasons for this may be two-fold: first, the medical profession has been historically dominated by men who by and large are more concerned with promoting men's sexual health than women's, and secondly, women have been socialized in many cases to "serve" men sexually rather than to care for their own sexual needs.
Steven M Cohn, PhD, LMFT
The Portland Couples Counseling Center
1940 NE Broadway
Portland, Oregon  97232
503-282-8496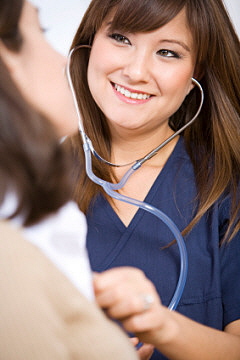 The former reason, the dominance of the medical industry by men, is beginning to change. As more and more women enter the field, we might expect to see changes in the way in which women sex advice is provided. Proof of the latter reason can be found in reading many of the books currently on the market which purport to give women sex advice. If you look carefully, you will find that most of these books do not help women to overcome any sexual problems they may be having, but rather they teach women how to more effectively and efficiently serve their partners.(1)
A recent study looked at young women's magazine reading habits as compared to their attitudes about sex. College aged women who frequently got sexual advice from teen-focused magazines such as Seventeen were found to strongly endorse male sexual stereotypes.(2) These stereotypes make it difficult for women to identify or even to admit that they have sexual issues of their own. Contrary to some men's beliefs, women can and do take an active interest in their own sexuality and pleasure, and sometimes need advice of their own on how to enhance their sexual experiences.
In the popular press, it is difficult to get clear, accurate, and helpful women sex advice. Rumors abound, and much of the advice is centered on pleasing men rather than on overcoming any problems a woman may be having sexually. And make no mistake, women do have problems sexually. Whether you are struggling with when to begin having sex, lack or orgasm, how to masturbate, or how to deal with the vaginal dryness associated with menopause, you are not alone. Rest assured, women throughout the ages have suffered with similar problems, but have often had nowhere to turn for women sex advice.
Although some would argue that the pharmaceutical industry has created a disease state out of women's sex issues,(3) a licensed Relationship Specialist can help you deal with the very real problems you may be facing. Be sure to choose a therapist who does not think that men sex advice and women sex advice amount to the same thing.
There are some very real differences between men and women and the advice they need. For example, one study has even shown that while men seek visual cues when looking for sexual partners, women actually look for olfactory cues.(4) A therapist who recognizes these differences will be best positioned to help you with the issues you face.
End Notes


(1)Tyler, Meagan. Sex self-help books: Hot secrets for great sex or promoting the sex of prostitution? Women's Studies International Forum 31(5): 363-372. September-October, 2008.
(2)Kim, Janna L. and Ward, Monique. Pleasure Reading: Associations Between Young Women's Sexual Attitudes and Their Reading of Contemporary Women's Magazines. Psychology of Women Quarterly 28(1): 48-58. March, 2004.
(3)Tiefer L Female Sexual Dysfunction: A Case Study of Disease Mongering and Activist Resistance. PLoS Med 3(4): e178. 2006.
(4)Havlicek, Jan, Saxton, Tamsin K.; Roberts, S Craig; Jozifkova, Eva; Lhota, Stanislav; Valentova, Jaroslava; and Flegr, Jaroslav. He sees, she smells? Male and female reports of sensory reliance in mate choice and non-mate choice contexts. Personality and Individual Differences 45(6): 565-570. October, 2008.